Some advices before the start
In order to guarantee to everyone an enjoyable day in safety, we wish to remind you some security measures and some important information about the event.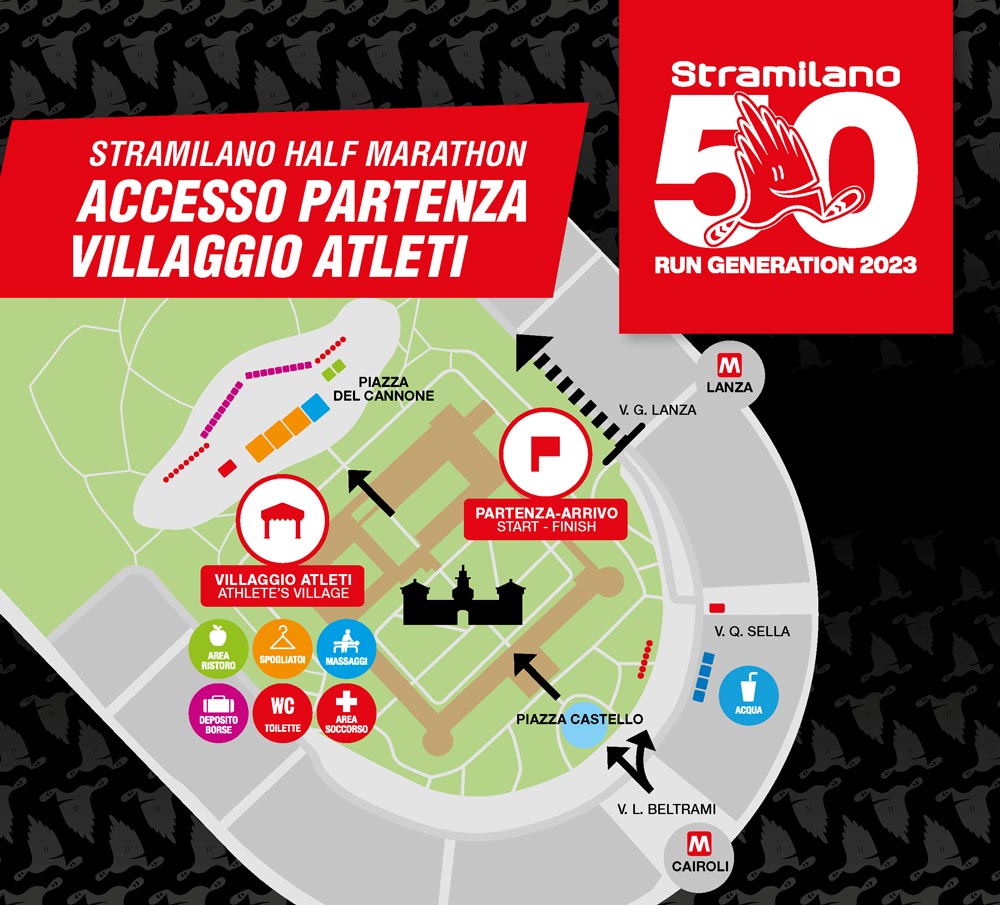 Entrances to Piazza Castello:
You can reach the Athletes' Village and the starting line only through some entrances – open from 7:00 am – that will be place as following:
– Piazza Castello (starting line)
– Piazza del Cannone (Athletes' Village)
Check the map to see where all the other services at your disposal will be placed.
You can also easily reach Piazza Castello by metro (red line Cairoli or Cadorna station and green line Lanza station), tram or bus with the following lines: 1, 2, 4, 12, 14, 50, 57, 58, 61, 94.
For informations about underground, bus and tram:
www.atm.it, app ATM, Twitter @atm_informa
Athletes' Village:
Within the Village you will find lots of services at your disposal: you can leave your personal stuff in the designated area, get changed in the dressing rooms, quench your thirst and rest a bit in the food court and treat yourself with a massage.
Warning! No other bags except the Stramilano's official ones will be allowed in the storage.
Timing, departures and arrivals:
Stramilano Half Marathon departure is planned from Piazza Castello at 10:00 am, and will end in the same spot.
Security:
In order to preserve everyone's safety, please follow the rules in the image below.
Bottles and cans, glasses, gas canisters, poles, selfie stick, tools, fireworks or flares, weapons, helmets and suitcases and large bags shall be forbidden.
Notice that – in case of rain – the event will take place regularly, but running with umbrellas will be prohibited.
Thanks for your cooperation!
For any further information you can visit all the Stramilano's official channels.